Discover the magic of sideways Hat knitting!
You've probably knit a Hat from the bottom up. Maybe even from the top down. But what happens when you rotate your knitting through 90 degrees? Discover the opportunities for creativity, fun and play that open up when you look at your knitting a little bit differently!
Sideways knit Hats are my favourite kind to design and the patterns for them are perennially popular. In this class, I welcome you into my working studio to demystify sideways Hat knitting, focusing on beanie and pixie style Hats. We'll cover everything from the theory and maths that underpin a sideways Hat to the practical skills - provisional cast ons, short rows, grafting - you'll need to bring a sideways Hat into being.
I'll share the core of sideways Hat designs with knowledge gained from years of creating them. Having taught thousands of students in hundreds of in-person workshops about the theory and construction of Hats, I've crafted this course to give you the tools you need to confidently design and create sideways beanies and pixies. Join me and we'll turn traditional Hat construction on its head!
What You'll Get
A deep dive into the theory and construction of sideways knit beanie and pixie Hats, with plenty of examples and schematics, equivalent to material typically covered in a 6 hour in-person workshop
Fully planned and prepared video class segments, created drawing on my background in teaching and education + my years of experience teaching knitting workshops
Two hours of professionally filmed + edited, fully subtitled video content from my working studio
Comprehensive 42-page eBook to reinforce knowledge and provide information in a different format (retail value: $23)
Full transcripts of all video
Live and in-person support available in multiple settings: if you get stuck or have a question, we're here to help!
The confidence to design and knit your own sideways knitted beanie and pixie Hats!
2 classes in 1 - this is the same class as my Turning Sideways: Beanie class with bonus material!
a 30-day money back guarantee.
Why An Online Workshop?
Creating accessible online workshops to share with students has long been a goal of mine. While in-person workshops can be a lot of fun, they also have their limitations, especially when it comes to teaching something like design where time is key for working through your ideas! I'm excited to be able to share my Hat knitting expertise in a format that lets you learn at your own pace and also removes the cost of travelling to attend an in-person class. Here are just a few of the plusses of this format:
Learn at your own speed! All video content is presented in digestible class segments (typically 5-7 minutes) that are clearly grouped and labelled for easy navigating. Cover as much or little as you like in one sitting and return to the material as often as you wish!
Learn in your own time. Anyone anywhere can enjoy the course and all of it's benefits, regardless of time zone.
Fully downloadable! All class materials, including videos and documents, can be downloaded, meaning you don't need to be dependent on an internet connection to work through the class materials.
We've built accessibility in. All videos are fully subtitled, processed by a human. Transcripts are also provided. Captions, transcripts and handouts will be translated in due course to enable learning in different languages.
The course is yours to keep! There's no subscription to maintain or time frame for working through the class. Once you purchase it, it's yours!  
About Woolly
My name is Woolly Wormhead, and I'm a Hat knitting architect. I've built my career on knitted Hat design. For 16 years I've been turning Hats inside out, upside down and sideways, creating more than 350 patterns and 18 books, and now I'm making this expertise available to you online. Having taught hundreds of knitting workshops in person, I've gained plenty of insight into students' practical stumbling blocks, and how to help you past them. If you're a curious knitter, keen to explore new techniques and learn more about knitted construction, Hats offer vast possibilities – I can't wait to share them with you!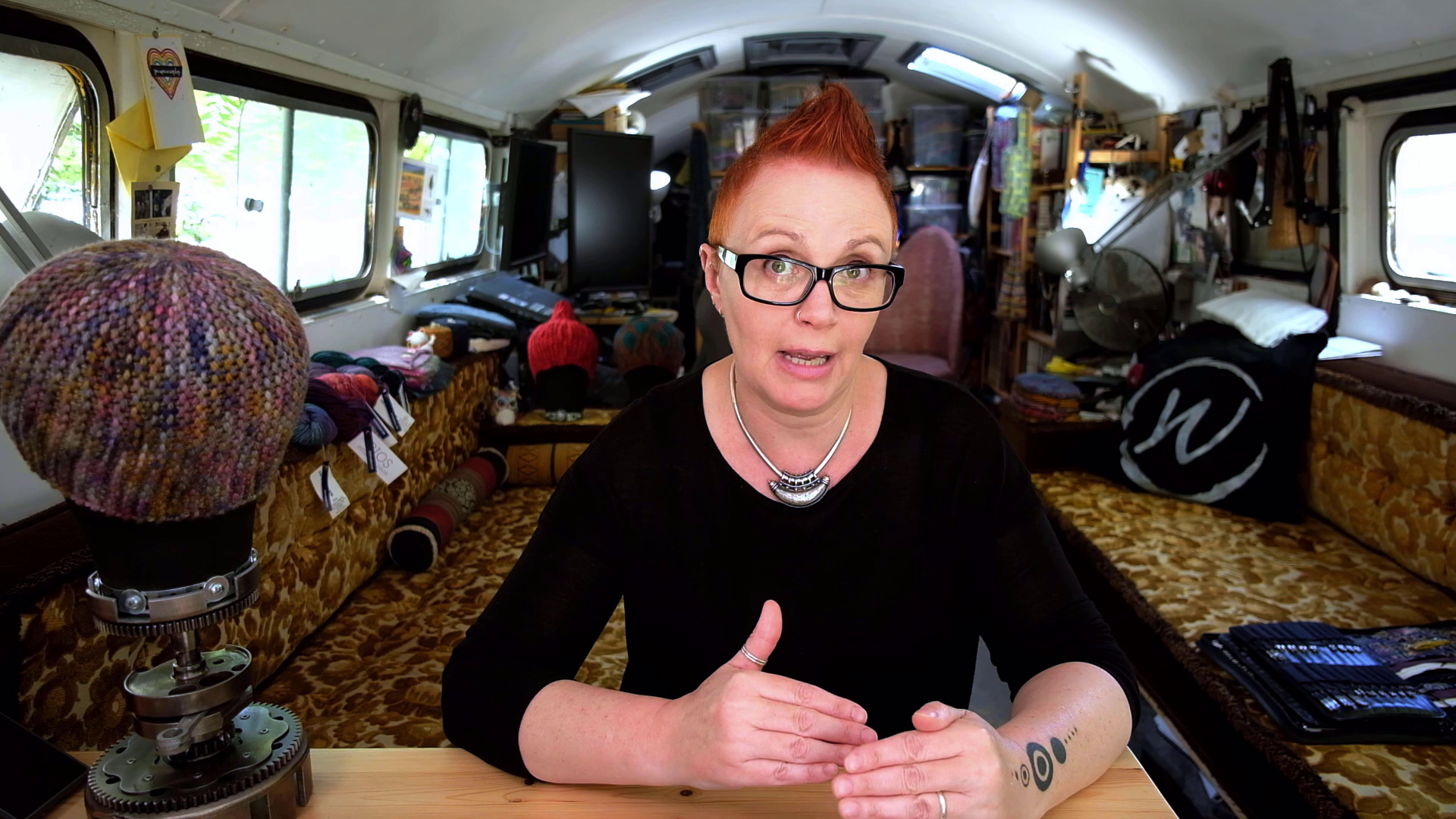 Learn From Woolly
Learn directly from Woolly as you're guided through sideways Hat knitting, it's special properties and what makes it such a fascinating construction method.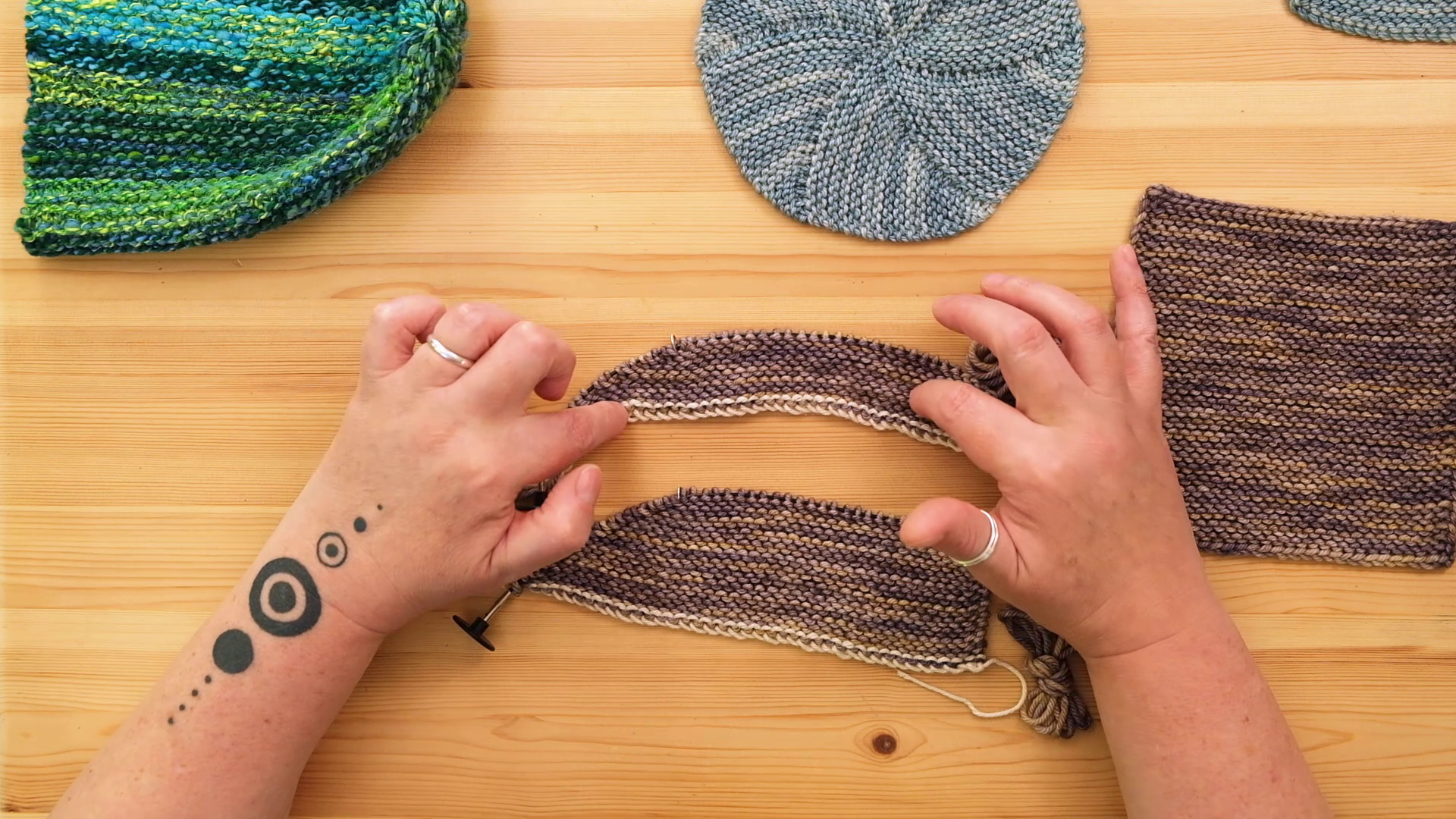 Work Through Examples
Follow Woolly's class examples to learn how a sideways knit beanie is constructed, with follow-up details in the accompanying the 42 page eBook.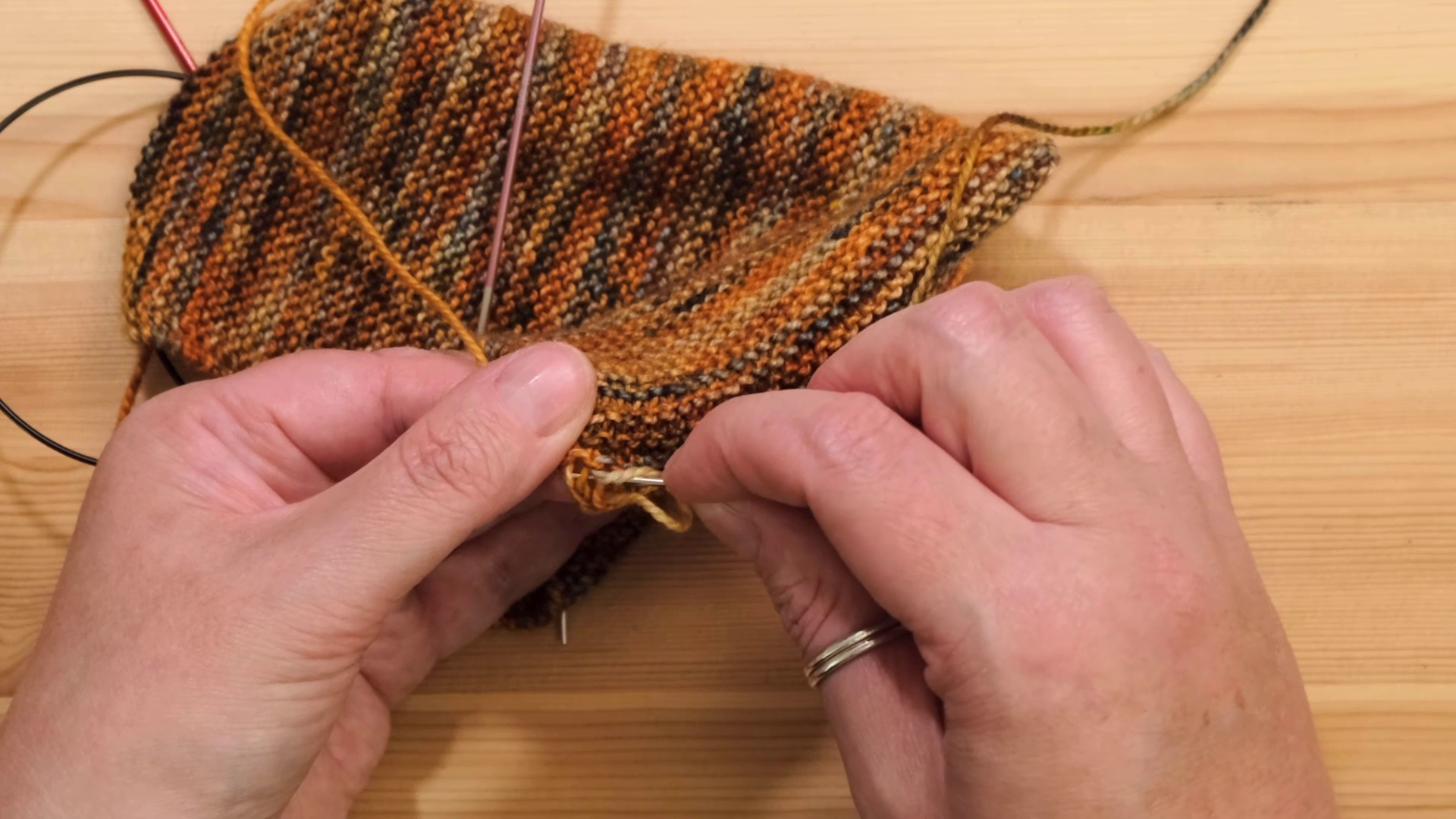 Gain New Skills
Learn valuable skills to help you complete your sideways knit beanie including the Crochet Provisional Cast-on, German Short Rows and Grafting Garter Stitch.
Turning Sideways: Beanie + Pixie - course curriculum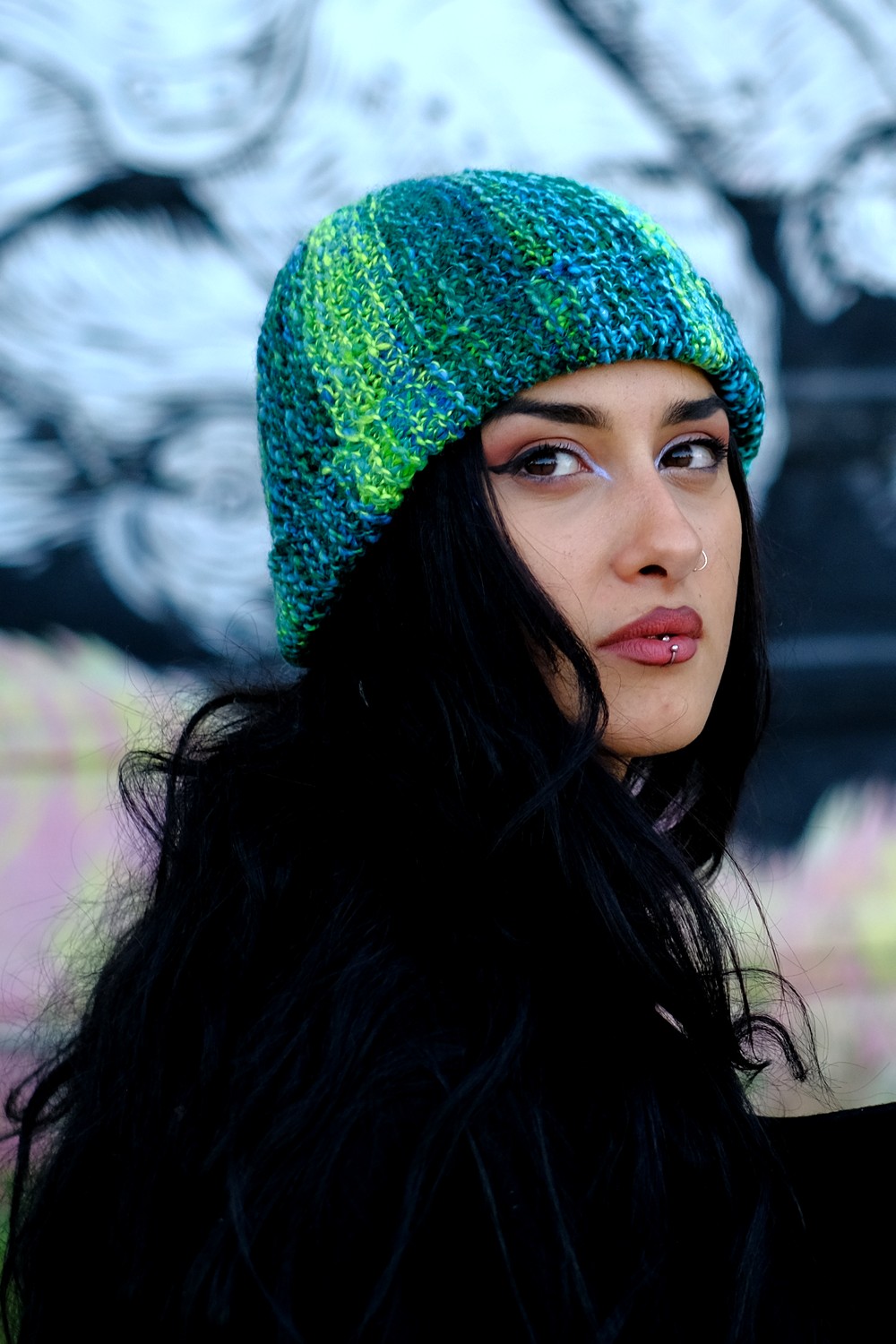 Image one
sideways knit beanie in handspun, left view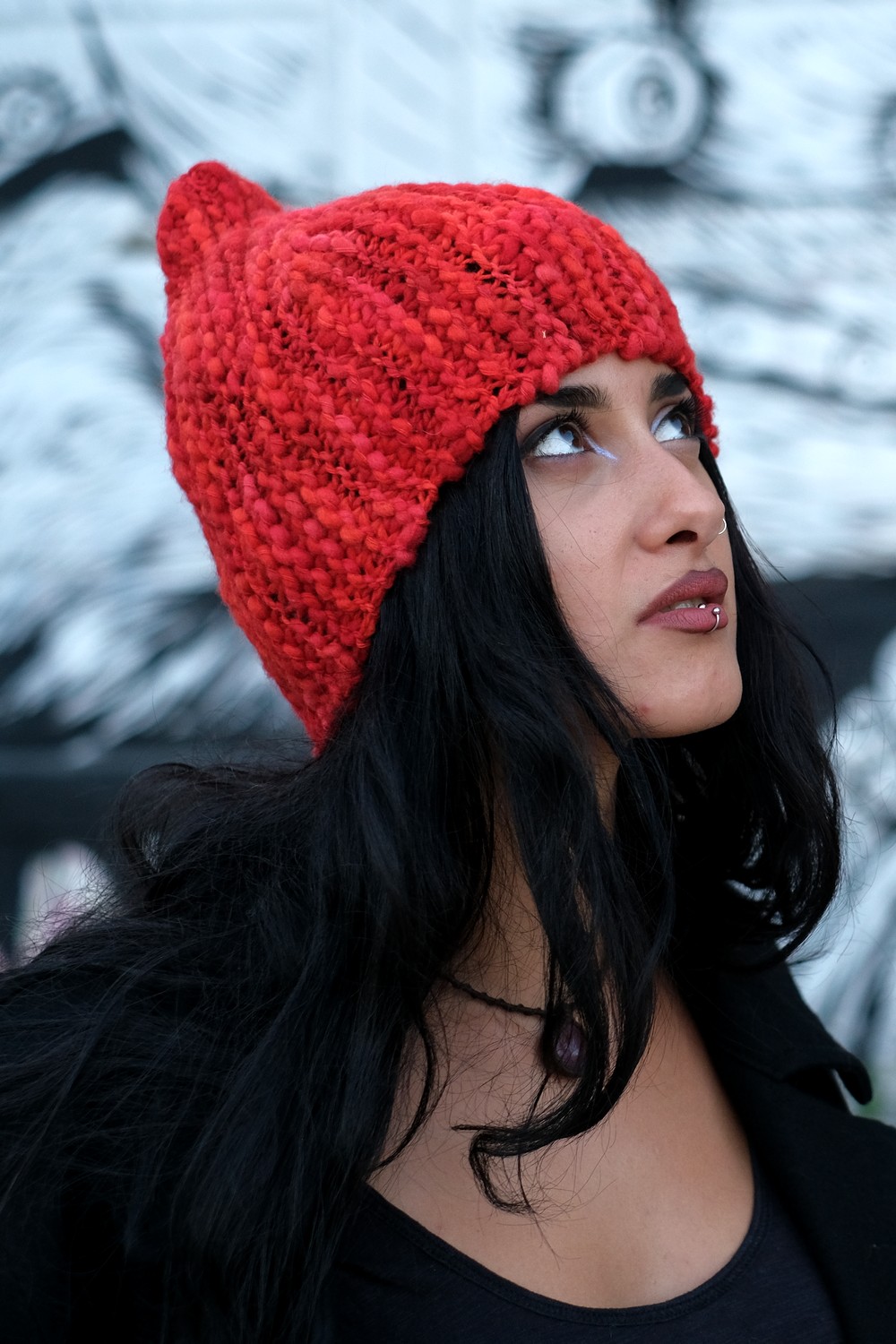 image two
sideways knit pixie in bulky yarn, left view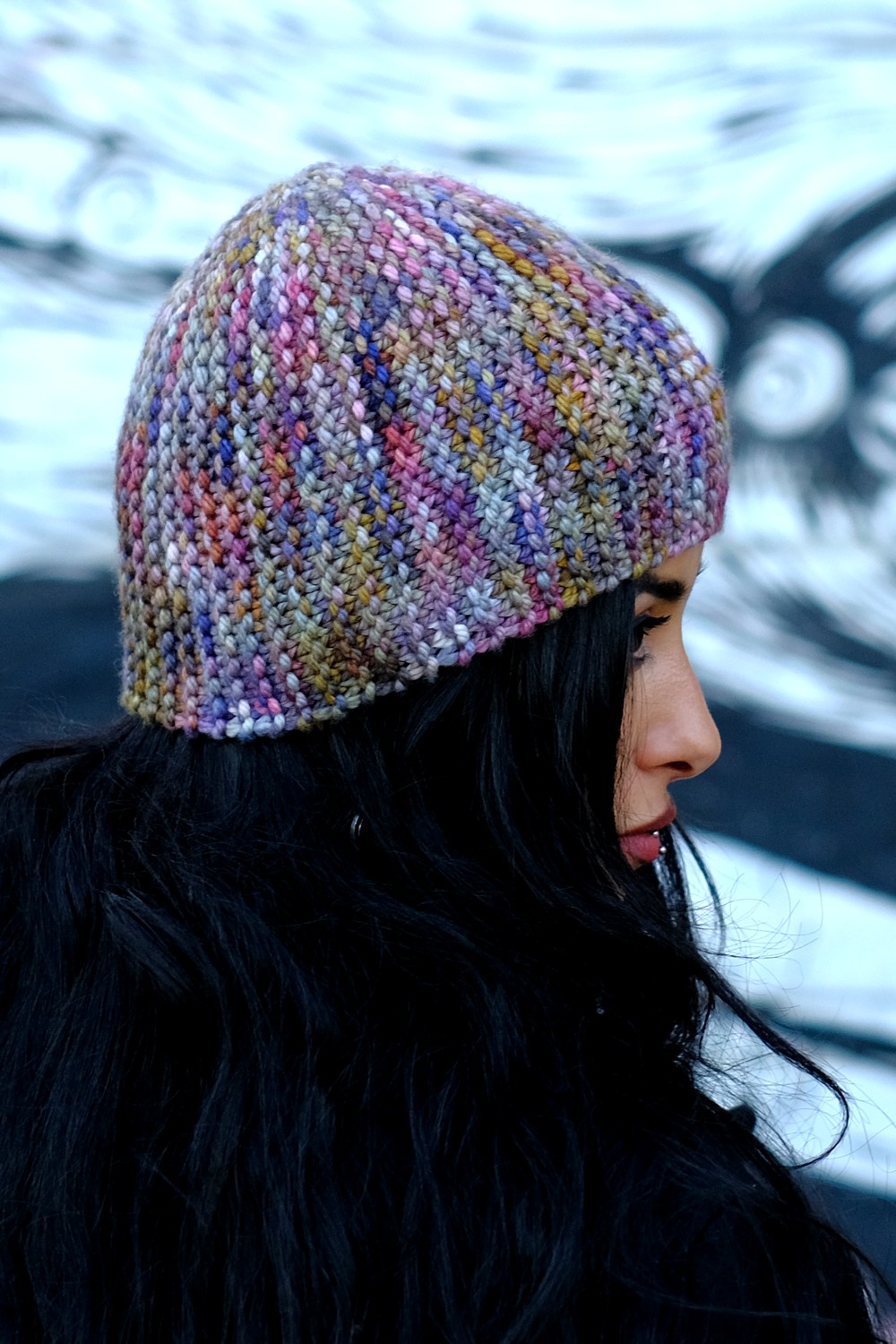 image three
sideways knit beanie in chunky yarn, left view
Testimonials


"It struck me that even though I have knit a few sideways Hats from Woolly's patterns, I had done it blindly following the pattern; now I will enjoy the next one more. This class gifts you the why and how. Great for those who have never done this construction; great for those who have!" - Marceline
"Brilliant! Step by step instructions with pictures, schematics, samples and examples on how to create your own sideways knit beanie/pixie Hat. There's even the maths behind the structure and how to for key techniques required. What more could one want? All provided by Hat engineer extraordinaire Woolly Wormhead herself!" - Sibila